Meguiar's MotorEx is hitting Melbourne this weekend, and as a special treat for show goers, StreetFighter will be offering MotorEx only specials on our entire range of products, and performance packages. Whether you are looking for an exhaust, cold air intake, or even looking at a top level supercharger package we have deals on everything. Products and packages available for Mustang, Camaro, Falcon, Commodore, 4WD.
Come see us at the StreetFighter stand in the Performance Garage this weekend!
http://streetfighter.net.au/
AIRBOX SPECIAL
As a special offer, we are selling our StreetFighter Cold Air Intakes to suit FG-FGX XR6, XR6 Turbo, XR8 5.4 for the low price of $395 (plus postage if buying online). We have a small number available at our stand at Meguiar's MotorEx Saturday and Sunday.
Come see us at the show, or purchase online:
https://www.kpmmotorsport.com.au/pro...ld-air-intake/
Falcon FG-FGX Specials
Performance packages, supercharger packages, and StreetFighter premium exhaust systems, available for the 2015-2017 Mustang GT. We will be showcasing it all at Meguiar's MotorEx with a few hot offers, and special prices, so make sure to come see us!
https://www.kpmmotorsport.com.au/pro...tegory/falcon/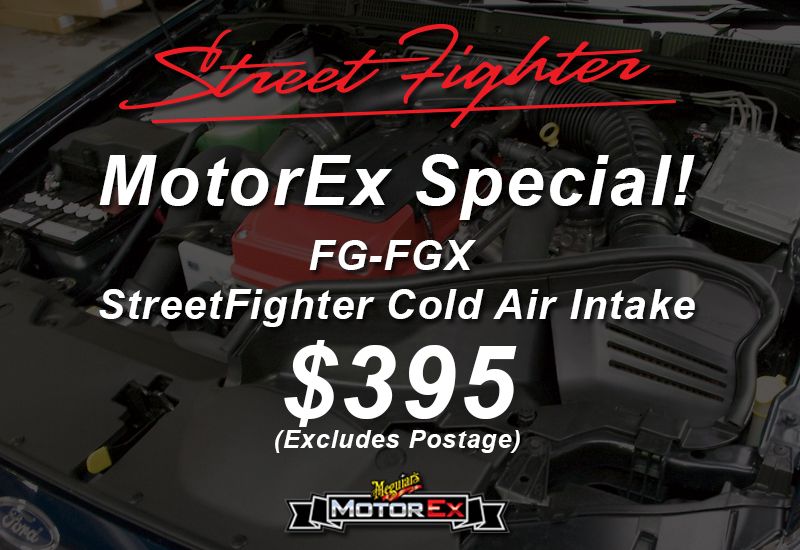 __________________
Streetfighter Specialist Workshops exclusive 3 Year Driveline Warranty
New Zealand
CTB Performance
N.T.
Atic Performance
A.C.T.
Roadway Mufflers
New South Wales
City Performance Centre, Rapid Automotive, Tunehouse, Streamline Auto
Queensland
Dyno-Link, Insane Performance, Hunter Automotive
Elite Automotive, AHT Performance
Victoria
, Pitlane , BPR

Western Australia
Pro-Auto
South Australia
KPM Motorsport
Tasmania
Gowans Performance and Tuning