Autonomous Emergency Braking (AEB) is standard across the Ford Escape range from September 2018, adding to Driver Assist Technology and features that have earned Escape a 5-star ANCAP safety rating
From September 2018, the Ford Escape ST-Line will bring a new sports-focused Escape, with a fresh new look backed up by Escape's dynamic driving style, with sports suspension, retuned steering and unique styling package inside and out
Every new Escape comes with a Five-year/unlimited kilometre warranty to give Australians peace of mind for trouble-free motoring, with ownership support to eligible customers including Service Price Promise, SYNC 3i sat-nav updates and Loan Car Programs
Ford's SUV family has expanded to more models, wider variety and broader choice for Australians, from EcoSport, the newly updated Escape, award-winning Everest and – later in 2018 – the all-new premium SUV, the Ford Endura.
Melbourne, June 14, 2018 –
The Ford Escape ST-Line will join the line-up later in 2018 to giveAustralians a sports-oriented mid-sized SUV, while Autonomous Emergency Braking has been expanded to become standard equipment on every 2018 Escape model.
"Australians continue to pivot towards the practicality and versatility of trucks and SUVs, yet there's a genuine passion for sports and performance models here, too," said Ford Australia President and CEO, Graeme Whickman. "The Escape ST-Line is the first ST-Line model here, bringing together Ford's sports styling and dynamics with the liveability and convenience of the Escape."
In addition, every 2018 Ford Escape is now fitted with Autonomous Emergency Braking as standard. Previously an option on flagship models, AEB has now been extended across the 2018 Escape line-up, meaning it's fitted to the Escape Ambiente for the first time.
The 2018 Escape: Autonomous choice, Autonomous Emergency Braking
Every 2018 Ford Escape comes with Autonomous Emergency Braking as standard equipment, including the entry-level Escape Ambiente.
"We're seeing more and more brands incorporate AEB and other active driver assistance features as part of their model refreshes, and this is an important shift," said ANCAP CEO, James Goodwin. "The market has matured and it is encouraging to see brands such as Ford recognise the need to upgrade safety specification as part of their mid-cycle updates."
"Australians are strong on safety and look for high levels of equipment in their vehicles," said Graeme Whickman. "Escape joins the new 2018 Mustang as having AEB standard, and we've also announced AEB will be available on the 2018 Everest, Endura SUVs, as well as the Ranger, Transit Custom and the all-new Focus."
Also new for 2018 is a fresh 17-inch alloy wheel as standard on Escape Ambiente for a more distinctive look, replacing the existing Ambiente's steel wheels. This means that the entire Escape line-up comes with alloy wheels as standard.
SYNC 3 is standard across the Escape line-up and includes in-built voice activation, native sat-nav as well as Apple CarPlay and Android Auto smart-phone compatibility. SYNC 3 can be operated by steering-wheel mounted controls, or via a steering-wheel mounted voice activation button. Apple users can also enable Siri for iPhone functions, minimising distraction and saving time fumbling for buttons.
Escape ST-Line: sports poise with pragmatism
The 2018 Ford Escape introduces the ST-Line name to Australian customers, and delivers bold exterior and interior styling including unique alloy wheels and sport seat designs. It will also offer the sportiest Escape driving dynamics yet, with chassis enhancements including optimised suspension that lowers ride-height by 10mm, re-tuned steering, and thicker anti-roll bars for reduced body roll and sharper responses.
Strong visual changes help the ST-Line make a bold statement, with is 18-inch Absolute Black alloys matched to the front grille, fog-lamp surrounds, roof rails and rear valence to reflect its athletic nature and boldness.
The drivers' seat is the best in the house for the ST-Line, with new leather combination trim throughout the cabin, featuring detailed red-stitching to match the ST-Line logo. Red stitching is also seen on the gear-lever, as well as the armrests and the ST-Line steering wheel. Stainless steel pedals match the unique scuff plates to give Escape ST-Line's cabin an energetic, premium splash of colour, finished off with ST-Line floor mats.
ST-Line: street smarts
The Escape ST-Line equipment level brings additional Driver Assist Technology to Australian customers. With AEB as standard equipment on all Escapes, the ST-Line also features Smart Keyless Entry, Blind Spot Information System and Rear Cross-Traffic Alert as part of its Driver Assist suite.
An optional ST-Line Technology Pack (MLP $800* ) adds:
- Adaptive Cruise Control Forward Collision Alert Tyre Pressure Monitor
- Lane Keeping Aid with Lane Departure Warning
Confidence around town comes from ST-Line's standard front and rear parking sensors, as well as its 8.0-inch full colour reversing camera. However, ST-Line boasts even more advance technology, with Enhanced Active Park Assist enabling auto parallel parking as well as auto perpendicular parking.
The Escape ST-Line is standard with Intelligent-All-Wheel Drive, which is designed to monitor Escape's performance and adjusts the delivery of torque to each wheel every 16 milliseconds. Power comes from the popular 178kW/345Nmiv 2.0L EcoBoost four-cylinder and six-speed paddle-shift automatic, delivering official fuel efficiency figures of 8.6L/100kmv (ADR combined cycle).
In 2018, the Ford SUV line-up will further expand to include the all-new Ford Endura. Never offered in Australia before, the Endura has been carefully selected to offer customers looking for a level of sophistication, refinement and features previously the reserve of a premium sedan. Endura brings with it the comfort and convenience of an SUV, but with the attention to detail, equipment levels and style of premium motoring.
The Escape ST-Line goes on sale with the updated Ford Escape line-up in September 2018.
2018 Ford Escape MLP
Recommended Manufacturer List Prices (MLP)* for 2018.5MY Escape and options:
Escape Ambiente 1.5L EcoBoost FWD 6MT
$28,990
Escape Ambiente 1.5L EcoBoost FWD 6AT
$30,490
Escape Ambiente 1.5L EcoBoost AWD 6AT
$33,490
Escape Trend 1.5L EcoBoost FWD 6AT
$33,490
Escape Trend 1.5L EcoBoost AWD 6AT
$36,490
Escape Trend 2.0L TDCi AWD 6AT
$38,990
Escape ST-Line 2.0L EcoBoost AWD 6AT
(new) $39,990
Escape Titanium 2.0L EcoBoost AWD 6AT
$45,480
Escape Titanium 2.0L TDCi AWD 6AT
$48,340


Escape ST images: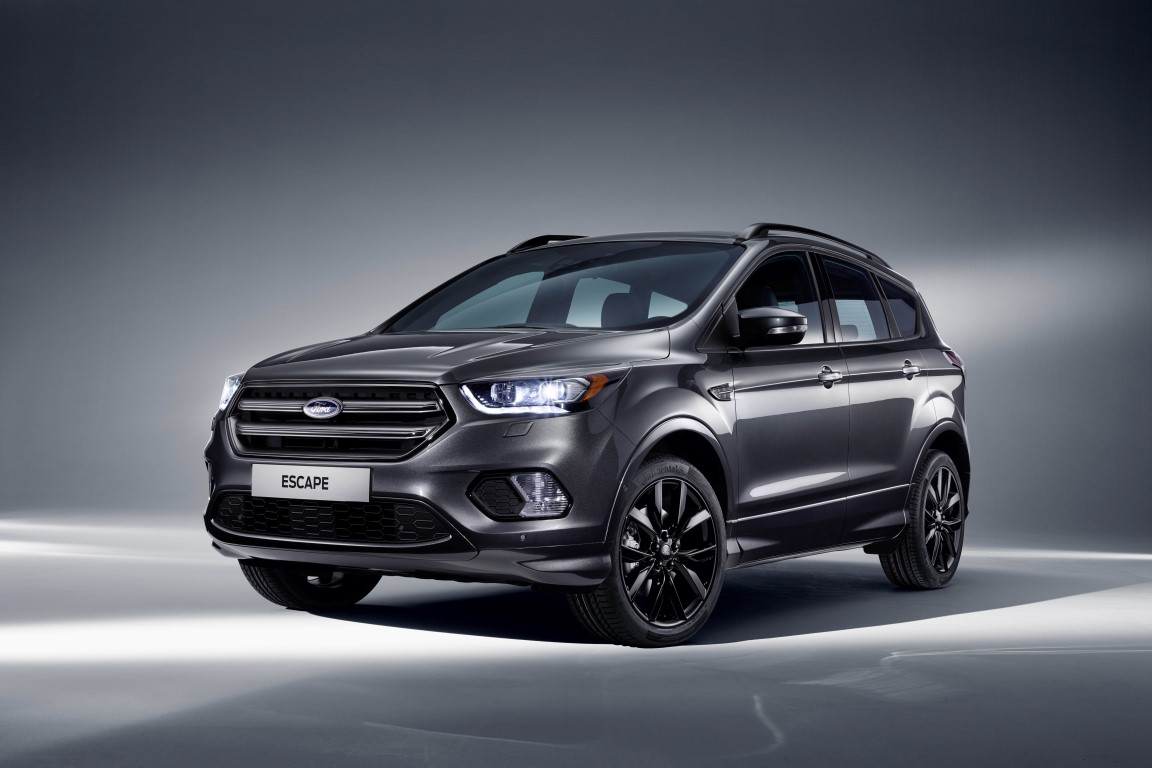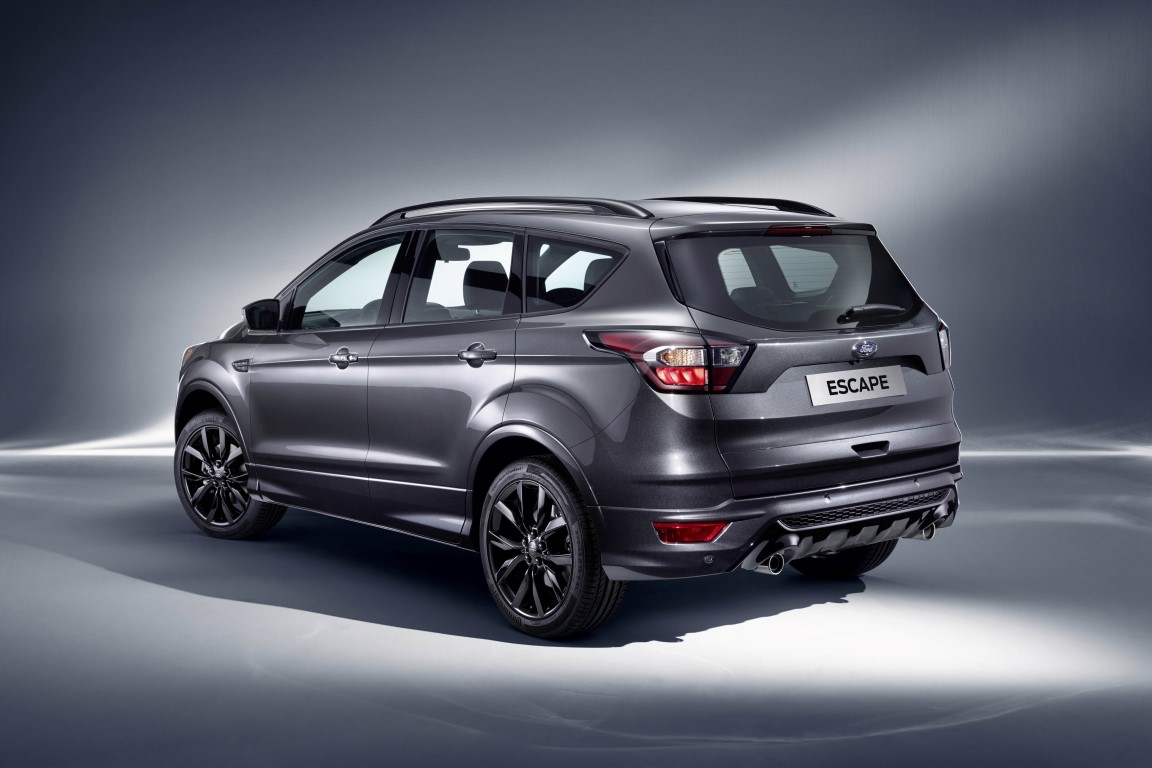 Source: Ford Media